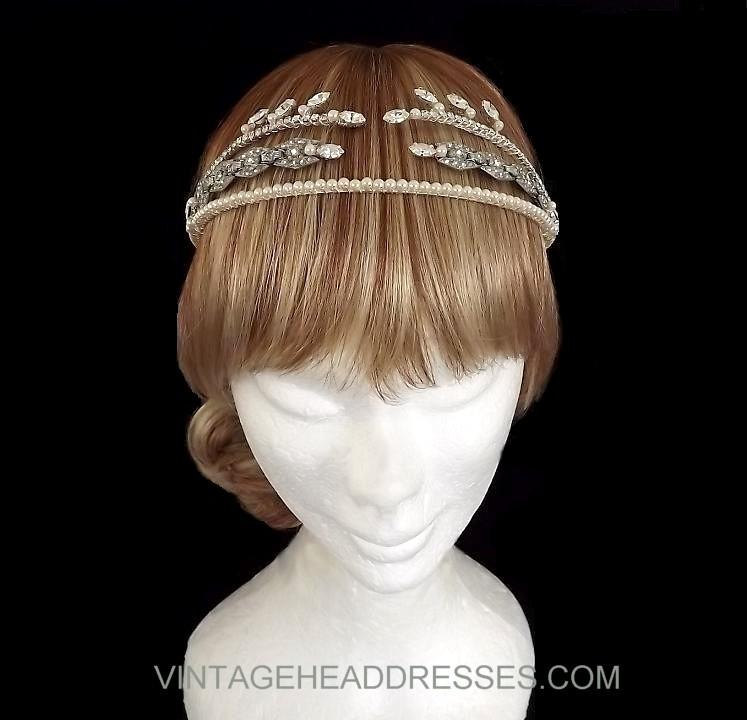 Vintage Regency War and Peace Headpiece Designs
With the BBC's new adaptation of Tolstoy's epic War and Peace now on TV screens, I was inspired by the beautiful headpiece worn by the character Natasha (played by the beautiful Lily James) in the show, to create a range of one-off vintage Regency bridal headpieces. These Regency era headpieces also take influences from Greek, Georgian, Russian and Etruscan periods and cultures, as is typical of the early 1800's era. I am really enjoying working on these gorgeous bridal headpiece designs.
Each one is unique and features rare vintage pieces, offset with Swarovski or vintage glass pearls, and marquise diamantes.
Here is a sneak peek at the first one, which is available now. This headpiece features an authentic early 1900's bracelet piece within the design, and is so easy and comfortable to wear, being set on a high-quality flexible headband, which adjusts to head shape. The last two photos show the gorgeous War and Peace headpiece worn by Lily James in the new BBC War and Peace TV show, which provided the inspiration for my designs.
More vintage one-off Regency era War and Peace headpiece designs are currently in progress, and will be photographed and available to purchase very soon.