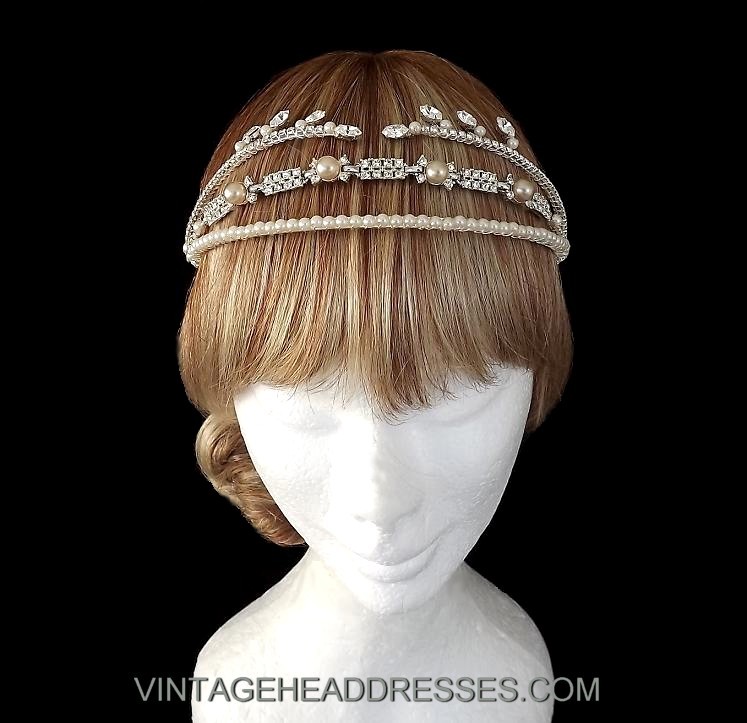 Latest War and Peace Headband Design.
Our latest War and Peace headband design is now available. Taking inspiration from the beautiful Regency headpiece worn by Lily James in the current War and Peace adaptation, this is our latest one-off vintage bridal headpiece to reflect the early 1800s Regency era. This beautiful silver vintage headband also has a Grecian feel, typical of many early 19th century headpiece designs. Delicate in  design, yet with just the right amount of drama.
As always, this vintage War and Peace headband design is unique, created around a rare 1940s rhinestone and pearl necklace piece, and offset with vintage glass pearls, diamante chain detailing and marquise diamantes. It is so easy and comfortable to wear, being set on a high-quality flexible headband, which adjusts perfectly to the head shape of the wearer.
I am currently working on a gold tone version of these War and Peace headband designs, created around an amazing rare vintage pave rhinestone piece, which will be available shortly.